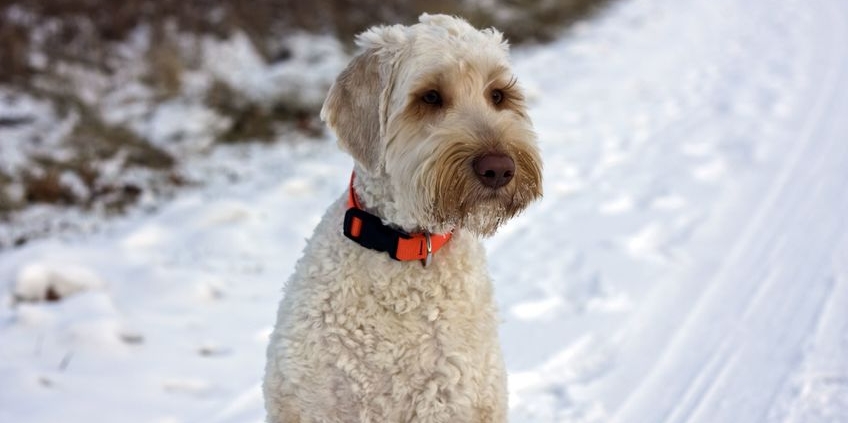 For half of the country, including some areas here in California, the onset of fall means colder weather isn't too far off. If you're a dog owner, that means taking steps not only to prepare yourself for winter, but also to prepare your pup.
Dogs need to be exercised pretty much every day, rain or shine. But as temperatures start to drop, there are extra safety considerations you have to make when you put on their leash and take to the streets. Use the tips below to keep your pooch healthy and comfortable on those cold wintry walks!
1) Stay on top of nail maintenance.
A dog's nails are more vulnerable to splitting and breaking on frozen ground. Keeping them short will make them less prone to injury as you take on the cold sidewalks. It's also important to trim the hair between their nails, as ice can build up in this area as they walk and cause pain and frostbite.
2) Consider getting your dog a winter jacket.
Depending on your dog's size, coat, and how cold of an area you live in, you may want to think about layering them up with a doggy jacket. Even some dogs with thicker fur and hair have a low tolerance for cold and can benefit from a winter jacket or sweater. A waterproof jacket will help keep their temperature regulated and their coat dry.
3) Check paws after every walk.
When you arrive home from a cold-weather walk, inspect your dog's paw pads for cracks, cuts, and discoloration, and look for broken nails. It's easy for a dog's paws to get dried out in cold weather, which can make them painful to walk on. You may want to use a pet-safe moisturizer on them throughout the season. Wipe paws to get rid of not just dirt, but any road salt or antifreeze, which are toxic to dogs.
4) Monitor your dog for signs of discomfort.
If your dog appears to be uncomfortable or in pain on a cold-weather walk, don't attempt to push them through it. They may start shaking, raising their paws, or just stop walking altogether. If this is the case, listen to your dog and turn around to go home. Also, be sure to pay attention to any hazards around you as you're walking, such as ice, puddles, nearby cars, etc.
Nothing warms up a house in the winter like a new little puppy running around. Expand your home and heart by four more paws with a gorgeous puppy from Sierra Springs Australian Doodles! Our litters book up fast, so the earlier you make your reservation, the better.
Contact us today for more information about our next available puppies!
https://ssdoodles.com/wp-content/uploads/2020/10/Cold-Weather-Dog-Walking-Tips.jpg
565
848
Lisa Olson
https://ssdoodles.com/wp-content/uploads/2019/09/SSDOODLES_Logo.png
Lisa Olson
2020-10-26 14:11:19
2020-10-26 14:12:15
Cold-Weather Dog Walking: 4 Tips to Keep Your Dog Safe & Comfortable