We are super excited to announce that we have officially partnered with BAXTER & Bella and their exclusive online puppy school!
This program provides pet parents with Lifetime MEMBERS ONLY Access to achieve better animal ownership and experience the very best in canine companionship. Their step-by-step lessons, how-to videos, training methods, materials, and resources will help you successfully integrate your new dog into your life and home… and they even include unlimited one-on-one video conferencing and online canine coaching classes too!
We recommend that you sign up today and become a member, and don't forget to enter discount code SSDOODLES – you'll instantly save 25% off!
 "I cannot say enough good things about this program! I am a first time dog owner and had no idea where to begin. This program gave me the direction I needed. We have used the program for four months and our puppy is now six months old. I am frequently getting compliments from family, friends, pet care professionals, and strangers about how well behaved our dog is for being a puppy."   ~A.Fadel
Meet the Trainer…
Amy Jensen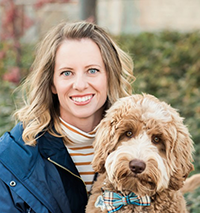 Professional Educator
I received my professional degree from Utah State University in Mathematics Education and enjoyed the privilege of serving as a full-time teacher for multiple years. Throughout my experience in various capacities, and in working with kids from many diverse backgrounds, I learned how much I truly love helping others realize their full potential no matter the subject material. Teaching has been an amazing opportunity for me to observe that moment when the light turns on for an individual learner and they begin to better understand how to properly connect concepts for optimal outcomes.
Professional Trainer
Now as a professional trainer, working with dogs has always been a dream of mine and I am blessed to be able to strategically combine this lifelong passion with my background in both education and curriculum development in order to effectively teach and efficiently train inside the dog world. I have an enthusiasm for working with others, a sincere commitment to excellence and I know first hand the key to successfully impacting the statistics on the number of pets that ultimately remain in loving homes where they belong hinges upon the community of many professionals who work to properly help coach animal owners everywhere how to connect, learn and teach others to live with their animals.
After turning my interest into a profession, families started contacting me to train their dogs for them, which set me on an ongoing adventure of seeking education and professional development in the dog training world. As I enjoyed the books, the classes, the mentors and of course, the teaching and the training time with the animals, I absolutely loved the learning and the implementing of it all by helping others. Through it all, I considered how I could have an even bigger influence for good and wanted to be able to send home resources and materials with every trained dog I worked with in order for the family to continue the training that had been taught and understand more completely the education their puppy received while in my care. I subsequently created the BAXTER & Bella company with hopes of sharing my training knowledge with as many new puppy parents as possible. Today, with a business that is growing and a commitment to continue forward, I am dedicated to providing the most current, up-to-date and impactful resources, tips, tricks, tools and techniques that are as much about teaching family pets how to appropriately act, as they are about coaching pet parents how to effectively train. In fact, here at BAXTER & Bella it's part of our DNA and will always be be who we are… successfully building positive and respective relationships with our animals as we continue to work toward becoming best friends through love and learning!
I have years of experience in the animal training world. In addition to currently training puppies for everyday family life, educating individuals through the use of my online puppy school and working one-on-one with clients in their homes, I have completed a semester of study in Animal Science at Utah State University, spent nine months training puppies at Puppy Steps Training in Northern Utah, apprentice trained for 18 months at Good Dog! Autism Companions and am now a professional service dog trainer for their organization. I have learned so many things through these experiences and love sharing my knowledge with others in ways that will help those around me better puppy parent. I am also an AKC CGC Evaluator, professional member of the Association of Professional Dog Trainers (APDT) and the International Association of Animal Behavior Consultants (IAABC), committed to using science-based, positive and force-free training methods. I train without the use of force, pain, fear, or intimidation.
​In addition to the things listed above, I strongly believe in life-long learning and am currently enrolled in a Masters training program to enhance methods, improve materials and build better relationships throughout the future!
​Wife & Mother
Along with being a math educator and puppy trainer, I am very blessed with the title of wife and mother. I am an enthusiastic stay-at-home mom who chooses to spend a portion of my time volunteering in classrooms for my three children, working with puppies, as well as creating educational materials for the everyday puppy owner. My dream is simple – I hope through teaching you how to pick a puppy, in addition to training the basic household manners, instilling the necessary obedience commands and introducing proper socialization skills I will be able to positively impact the number of dogs who will remain living in homes with their families where they belong.
Enter discount code SSDOODLES to instantly save 25% off!
Potty Training, Puppy Jumping, Play Biting…OH MY!
Don't worry, we have you covered. We have teamed up with Alyson Rodges of Aly's Puppy Boot Camp (APBC) to provide our clients with some amazing dog training knowledge. Should you purchase her comprehensive course, The Pillars of Pack Leadership Academy, you will have lifetime access to Aly and the Team in her private Facebook group.
A note from Aly…
Hi! I'm Alyson Rodges, and I like to call myself the average person's Dr. Doolittle. I have trained thousands of dogs at my training facility in beautiful Arroyo Grande, California. I want everyone to have the ability to go live life with their dog in a safe, sane and civilized way. We have three wonderful offers for clients of our favorite breeders. We know that adding a new puppy to life is an exciting time, but can also be a challenging experience without the right knowledge and preparation. You have questions and we have answers. We can't wait to join you on this new adventure!
For more information about Aly's Puppy Boot Camp, including in-person training options, visit us at www.alyspuppybootcamp.com and be sure to follow us on Facebook and Instagram.
Puppy Training
There are many things you can do to help your puppy grow up to be an amazing member of pet society!  It all starts with training. Training is an interactive experience for the entire family and is important for your puppy's successful transition into your home!
Common Training Questions
We love sharing our expertise with our families to ensure they can help their puppy to be the best they can be! Here are a few of the most common training questions we are asked:
Crate Training Your Puppy 
Crate training your puppy requires patience and consistency. It is very similar to setting a sleep schedule with a newborn baby. If you can be consistent, most of our families find their puppy is crate trained very soon!
It is very important to provide your puppy with the rest that they need! People seriously underestimate a dog's need for rest. Being a good puppy is very hard work! Rest is a critical element in training and allows your dog to soak up his lessons and recharge his mindset. Crate training has been proven to be the fastest and most effective way to housebreak a dog at any age. A dog's natural instinct is to avoid being near his own waste, so he'll make an effort to avoid going potty in his crate.
Destructive behaviors are often the result of an unsupervised puppy being bored or anxious. Using a crate during an owner's short-term absence eliminates this possibility! Crating your pup while you're away or unable to supervise keeps him from being destructive, stops nuisance behaviors, and prevents him from ingesting something that could potentially harm him.
A daily schedule is another element to adding beneficial structure to your dog's day. Daily Structure is essential for your dog's mental and physical well-being. Dogs like knowing exactly what to expect! To summarize, have a daily schedule for your puppy!
Potty Training & Rituals
Remember, rituals are predictable activities that lessen stress and anxiety in your puppy because he knows he can count on you. Even going potty is a ritual that does far more for your dog than merely potty training him. Potty mistakes are a result of too much freedom and lack of supervision and lack of appropriate confinement. Furthermore, punishing a potty accident actually increases their incidences. Accidents are not due to a dog's desire to go in the wrong spot. They are 100% due to a human's lack of supervision and not picking up or "reading" your dog's particular pre-potty clues.
You want to make sure that you put your puppy to bed at night with all of their needs met. This means you will have fed dinner several hours prior, given your puppy time to play after dinner, time to relax, and always several chances to go potty in the appropriate place. The very last thing you should do before putting your puppy in the crate is taking them to the bathroom. It may take several minutes but be patient with your puppy and allow them to void before putting them down for the night.
The crate can be a very helpful tool in potty training. You want to use the divider your crate comes with to make the puppy area only large enough for your puppy to lay down comfortably, but not any larger. This uses their natural instincts of not wanting to go potty where they sleep to teach them to hold their bladder and bowel movements. As your puppy grows, you can move the divider farther back until you no longer need it.
Potty Ritual Dos:
• Take your puppy to the potty spot after being in their crate for a sustained period of time (2–3 hours).
• Put his leash on and go directly to the potty spot. Hang out, don't talk or interact with your puppy, you could distract her from getting her business done.
• When an accident occurs (not if, but when), completely clean up the soiled area! Use white vinegar! You don't want to leave any scent residue, or it will become a new potty spot.
• Praise your pup calmly and gently after going potty, you can even give a treat!
Having your trainer set up and ready to go when you bring your puppy home is a sure way to many successful years with your pup! 
We have teamed up with Alyson & Luke Rodges of Aly's Puppy Boot Camp to provide new puppy parents with some amazing knowledge so that you can go live life with your dog in a safe, sane and civilized way. We have three amazing offers for you to start your training journey. The options are provided below, with a link that can take you to our webpage that will provide you with more information!
Puppies are a lot of work! They need frequent potty breaks, plenty of playtime, and training on basic commands. They need safe exposure to new people, places, and things. They need to learn how to tolerate handling for grooming and veterinary visits. They need to learn that couches and shoes aren't chew toys. All these things are very time consuming and non-negotiable if you want to end up with a happy, socialized, and well-mannered dog.
Let our experienced trainers take the stress out of new puppy ownership. We can help you prevent many common behavior issues from ever starting. With our unique owner involved board and train programs we not only train your puppy, but we also teach your entire family how to communicate your needs and expectations effectively and efficiently to your pup. By the time your new puppy leaves our home for yours, you will have a better understanding of your dog, their needs, and the most effective ways to communicate with them so that the training we have done will last a lifetime.
Our programs are an investment for you and your dog's future.
Puppy Programs to help you get started on the right paw.
Available in 4-, 6-, 8- or 12-week programs.
Grow With you Program (our most popular) – This program follows you and your puppy through adolescence to give you and your puppy the most comprehensive training available.
Adult Programs for puppies 6 months and older focus on obedience and control in your adolescent and adult dogs.