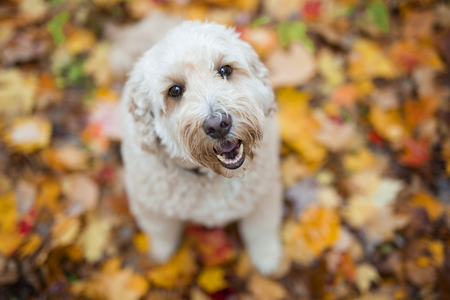 Congratulations on bringing home your new puppy! You're in for a lifetime of love, happiness, and snuggles with your little ball of fluff. But first, you'll have to help them get used to their new home and teach them how to behave. You know what that means? That's right—potty training!
House training a new puppy is going to require consistency, patience, and probably a good cleaning solution. If you follow these tips though, you'll be throwing a potty-training graduation party before you know it!
1) Choose a good potty spot.
Routine is very important in any type of dog training, but it's especially crucial for house training. Start by teaching your dog to stick to one area to do their business. This will help them learn and save you the trouble of having to pick up after them all over the yard!
Choose a direct location in the yard with quick and easy access. Lead your puppy to the designated spot on a leash and wait there until they relieve themselves. Repeat until they start to go there on their own.
2) Stick to a consistent timeline.
The potty spot isn't the only aspect of training that needs to stay consistent. The key to successful potty training is to keep your pup on a regular schedule, so they learn where and when it's okay to go. You'll want to take them out more frequently while they're still learning, but your goal should be to have them trained to relieve themselves:
First thing in the morning
5-30 minutes after every meal
After play or nap time
Right before bed
3) Make potty training a positive experience.
When you train your dog to do anything, you'll find more success and form a better relationship with them if you keep things positive. For potty training, this means praising and/or rewarding them every time they go to the bathroom outside in the right spot.
It also means keeping in mind that accidents are inevitably going to happen. Remain calm and be patient with your puppy—don't punish them for accidents. If you catch them in the act, take them outside right away. You'll want to clean the spot as soon as possible too, so they're not drawn to it again.
One of the traits we breed our puppies for at Sierra Springs Australian Doodles is trainability. This means they're ready and willing to learn, as long as you're willing to work with them.
For more information about how we raise our puppies and to reserve one to bring home to your family, call us today at 530-903-7575!
https://ssdoodles.com/wp-content/uploads/2020/02/Potty-Training-Your-Puppy.jpg
300
450
Lisa Olson
https://ssdoodles.com/wp-content/uploads/2019/09/SSDOODLES_Logo.png
Lisa Olson
2020-02-25 15:50:58
2020-02-25 15:50:58
3 Tips for Potty Training Your New Puppy