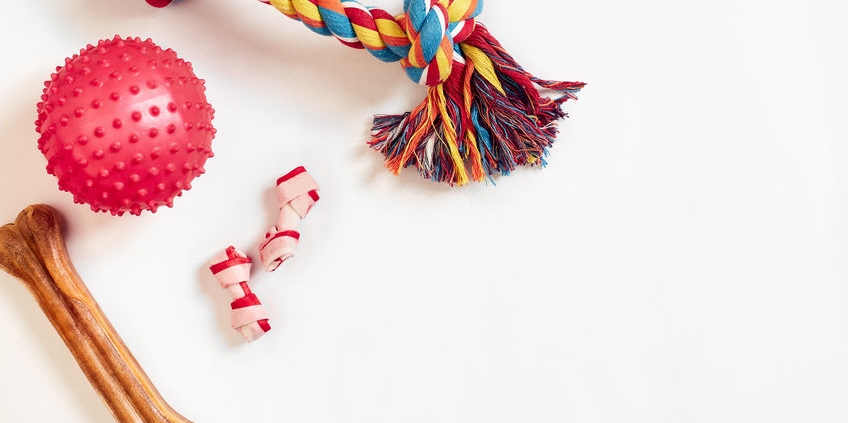 Ensuring all of your dog's needs are met is a lot of work. You need to keep them to a regular feeding schedule, be available for frequent bathroom trips, keep them well-groomed, and walk them daily, just to name a few things. But making sure your dog is happy and healthy is not just about work, it's about fun and play too!
Finding the right toys to please your pup can be a bit of a process. As you're choosing between the hundreds of balls, ropes, squeakies, plushies, and other options on the market, keep these tips below in mind to help you stay on the right track!
Always put safety first.
Above all else, you need to be careful not to give your dog any toys that could potentially cause them harm. For example, you should avoid toys with stuffing, which can be ingested and cause health issues.
You should also avoid rawhides and small toys they can choke on, as well as toys that may be too hard on their teeth or jaw. Consider your dog's size, age, and personality when determining which toys will be safest for them to enjoy.
Take your dog's activity level into account.
Higher-energy dogs will need toys that keep them more active. Interactive toys, such as ones with treats inside, puzzle or maze toys, and motion-sensor toys, are all excellent options. These also have the added benefit of keeping your dog's brain active too. Remember—mental stimulation is just as important as physical for your pup!
Dogs who aren't as active, on the other hand, won't need as many interactive toys. You should still offer them a few, but they may be more likely to appreciate toys designed for comfort that are easier to use. Squeaky plush toys (without stuffing), simple balls, and softer chew toys are a few suitable choices.
Learn your dog's toy preferences.
The best way to learn which toys are the best fit for your dog is to let them try a variety of options and observe what they like most. Your dog may prefer toys that you throw for them to retrieve or ones they can chew for hours on end. Or, you might find that they love the sound of squeakers or go crazy for treat toys. As long as you provide them with a safe and diverse selection of toys to play with, you can let them make the final decision.
If you're looking for a new four-legged companion to play with, an Australian Labradoodle from Sierra Springs Australian Doodles could be your perfect playmate! Australian Labradoodles are friendly, sociable, and loving dogs that strike the ideal balance between ready-to-play and ready-to-cuddle.
Visit our website to stay up-to-date on our upcoming litters and reserve your future puppy!
https://ssdoodles.com/wp-content/uploads/2021/02/Dog-Toy-Tips-1.jpg
565
848
Lisa Olson
https://ssdoodles.com/wp-content/uploads/2019/09/SSDOODLES_Logo.png
Lisa Olson
2021-02-25 16:24:12
2021-02-25 16:24:12
How To Choose the Right Toys for Your Dog